Water Heaters, Boilers, and Radiators
Water Heater Maintenance and Repair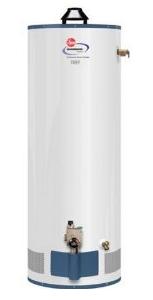 Conventional gas and electric water heaters should last around 11 years. Hard water will shorten the life of your water heater but regular maintenance can help to prolong it. Leave it to Rebisso's professional plumbers to inspect and repair your water heater. We will make sure the job is done right so you get the most out of your water heater.
Boiler Maintenance and Repair
Our skilled plumbers can service and repair all brands and types of boilers, radiators, and radiant heating accessories for home heating applications.
Installation
Selection and installation of the right water heater or boiler for your home can be a daunting task. Our skilled service plumbers can help you asess your hot water or radiant heating needs. Let our experienced professional plumbers install your new water heater or boiler and radiators and calibrate them to the right temperature for you.