Faucets and Sinks
Faucet Repair and Replacement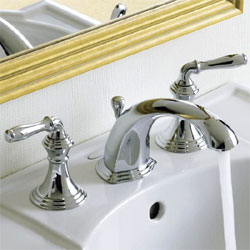 Rebisso's experienced plumbers can handle any faucet repair or replacement including kitchen sinks, bathroom sinks, showers, bathtubs, wet bars, laundry tubs, outdoor hose faucets and water shut-off valves. All faucets contain moving parts that can leak, break, and wear out over time. Rebisso Plumbing has an extensive inventory of hard to find and discontinued faucet parts allowing us to repair many faucets that other plumbers could only replace saving you money.
Sink Installation, Replacement, and Cleaning
Our skilled plumbers can install a new sink or replace an existing one for any application in your kitchen, bathroom, laundry room, or bar. We can also clean any clogged drain and asess and replace drain pipes as needed.